Joanna J Bryson
Greetings. I am a Reader [tenured Associate Professor, USA] in the Department of Computer Science at the University of Bath. I live in Princeton, NJ, where I was a sabbatical fellow in 2015-2016 at Princeton's Center for Information Technology Policy and an affiliate for the following two years. I am also doing research with the Princeton Departments of Politics and Psychology.

At Bath I founded and for some years lead the Bath Intelligent Systems research group. Most of my own research is done in the context of the subgroup Artificial Models of Natural Intelligence (AmonI). Although I'm only working for Bath remotely and at 40% time, I still teach and supervise dissertation students.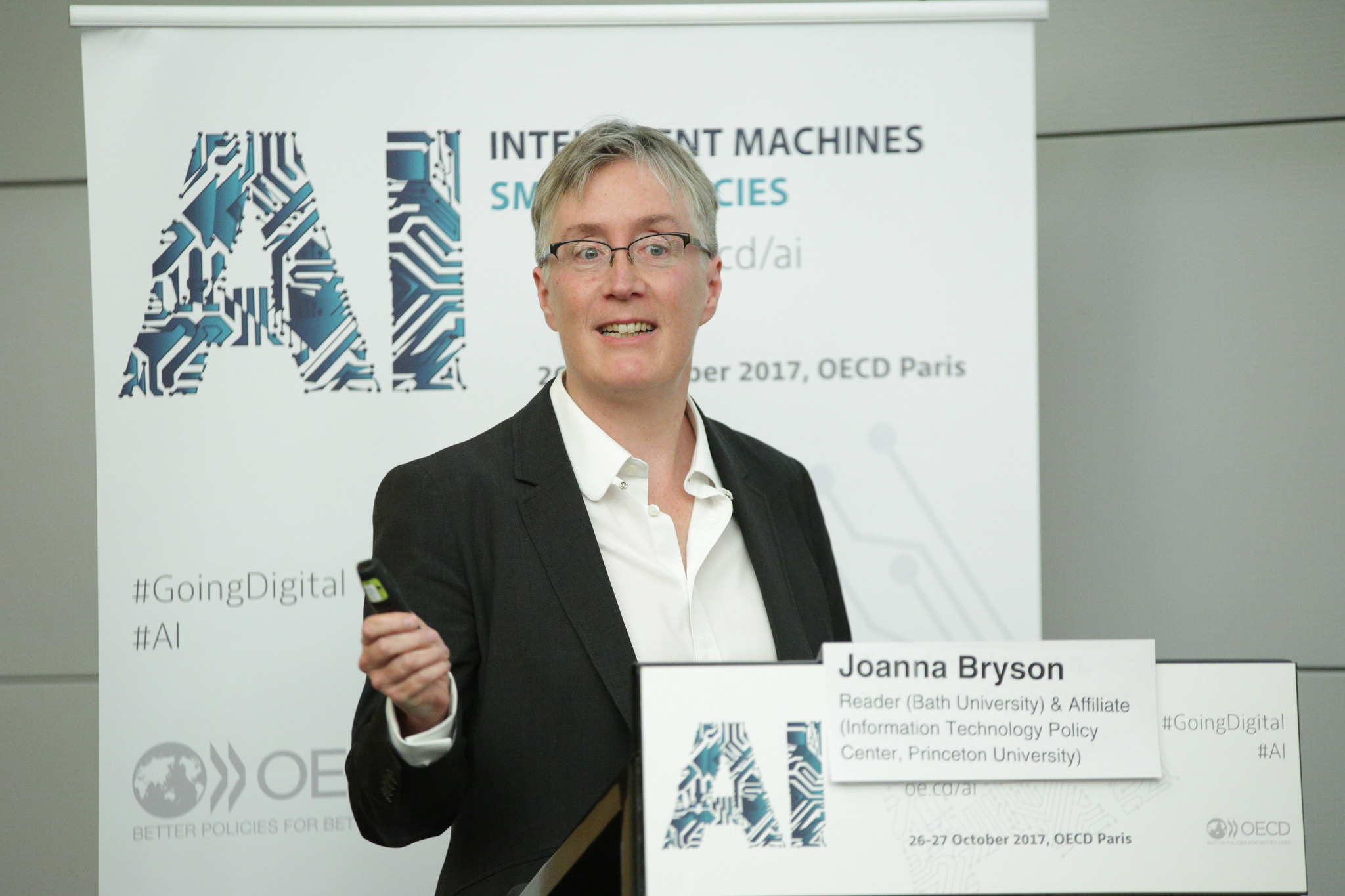 I do research in both Artificial and Natural Intelligence.

Within AI, my specific research areas are action selection and systems AI. My current PhD students are working primarily on the transparency of artificial intelligence in the context of domestic robots and computer games. Transparency should lead to greater safety and accountability, as well as improved moral understanding of the role of AI in society.

NI is however my first interest. I have two degrees in the social sciences (as well as two in AI), and am currently working primarily on cultural variation in sociality and public goods investment. This includes work on understanding the causality underlying the correlation between political polarisation and income inequality. My students and I work on a variety of questions of human behaviour coming from the angle of theoretical biology, and the evolution of cognition and culture.
These two interests cross streams in policy and AI ethics. I first published in this field in 1998, and have become increasingly active in it as a speaker, writer, and consulting expert.
CV & Biography
Here is my short, industrial (2 or optionally 3 page) resumé (late 2015), and my long, academic curriculum vitae (early 2018). My web pages (particularly my publications page) are often more up-to-date than my CV.
I did a reddit Science AMA on AI and AI ethics on 13 January 2017. TechCrunch liked it.

Social Media, Blog, & ORCID
My main social medial presence is @j2bryson, my (fairly) professional Twitter account, although it reflects my own views, not any employer's. I have (and reliably curate) a google scholar profile. I also have a blog Adventures in Natural Intelligence, which started in 2007 mostly personal but is now mostly professional. Posts are labelled, see in particular ai, ethics, policy, or perhaps academia or futurism.


In the unlikely case that you are wondering which J J Bryson I am: here, have my ORCID.
Out of Date Professional Activities
You might try checking my CV for this stuff...more likely, my twitter stream. I'm sure it will all be mined automatically in a couple years and / or doesn't really need to be catalogued.

Organising or Programme Committee for Upcoming Workshops or Conferences:

Journals:
Other Committees:
Member of:
Affiliate or Associate of:

Informally hang with Bath's Biodiversity Lab and evolutionary biology people more generally.
See my Previous Academic Professional Activities for older conferences, committees, etc.
Collaborators

My closest collaborators are members of AmonI (notably my students), but I work with a number of other labs and individuals:
---
Joanna Bryson Last updated 22 July 2018